Spring 2021 Application Deadline:
Monday, February 15th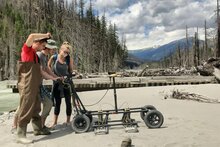 Professor Howard Roepke was a Geography faculty member from 1955-1985, and his estate provided a generous gift to the University of Illinois Foundation to support our undergraduate majors.
There are three Roepke Scholarship opportunities available to our undergraduate majors:
Successful Roepke Research projects
A Roepke Research scholar traveled to the Pacific Northwest to help Prof. Piotr Cienciala establish a new field research site.
 
A student assisted Dr. Sara McLafferty in identifying "health care deserts," neighborhoods where different types of health care services (doctors, hospitals, clinics, pharmacies, etc.) are in short supply, with the overall goal of analyzing healthcare accessibility within the city of Chicago.
 
A Roepke scholar worked with Professor Tom Bassett to investigate and map hunger throughout the world, which contributed to publication of the Atlas of World Hunger (University of Chicago Press, 2010).
A Physical Geography student worked with Professor Bruce Rhoads on the analysis of stream flow characteristics of streams in Illinois and their influence on flood regimes.
Criteria for Roepke Scholarship Selection
Students must have declared Geography and Geographic Information Science as their major. Undergraduate Scholarships will be awarded on a competitive basis. The GGIS Undergraduate Committee, composed of three GGIS faculty members, will select recipients for these awards. Criteria for selection will be based on academic performance and relevance of the required essay. Also, Research Opportunities requiring specific analytical or technical skills may also limit selection to qualified students. Financial awards will be deposited directly into students' accounts. Students are only eligible for one Roepke Scholarship per academic year.