Image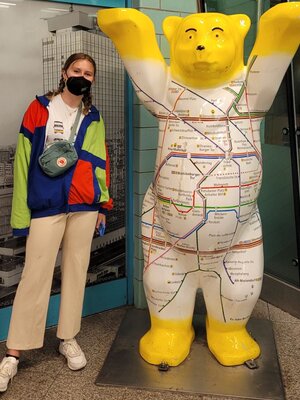 I have always loved Geography, and my high school AP Human Geography teacher included an additional unit on GIS that really piqued my interest. We got to work in groups and find the best location for a new business in our local area based on certain attributes. Learning ArcMap at a younger age was really helpful for understanding what GIS is and how to use it. While geography & GIS was not initially my major, I realized that I wanted to learn more and apply those skills in my future career! I am now a proud GGIS major!
I would love to use my geographic knowledge In the future to help improve transportation systems. I find urban and regional planning to be very interesting and my goal is to apply my GIS skills in a planning-adjacent career. The analysis of geospatial data is crucial to reimagining physical spaces and transportation networks.
My advice to prospective students would be to think outside of the box as to what geography is. There are so many applications of geography and GIS that I never knew about until I started studying it myself. The department offers so many interesting classes in different core areas of geography that will strengthen your knowledge beyond the class materials. The skill set you develop as a GGIS major prepares you for a variety of opportunities and careers.