Looking for a career that combines cutting-edge geospatial technologies with business management? Consider the STEM-designated Illinois Professional Science Master's (PSM) program in Geographic Information Science (GIS).
The PSM in GIS can be completed in 18 months of full-time study on the Urbana-Champaign campus, including required summer enrollment to complete the internship. No thesis is required. APPLY HERE
Geospatial technologies, ranging from GPS-enabled devices to satellite systems and imagery are an integral part of our interconnected world, and are applied in a wide range of industries including agriculture, healthcare, energy, and transportation.
PSM in GIS students build a flexible, cross-disciplinary expertise around a strong GIS core, drawing on the University of Illinois's renowned strengths in GIS, informatics, computer science, and related fields. PSM students also acquire business knowledge and professional skills during the (required) professional internship.
 

 Internship partners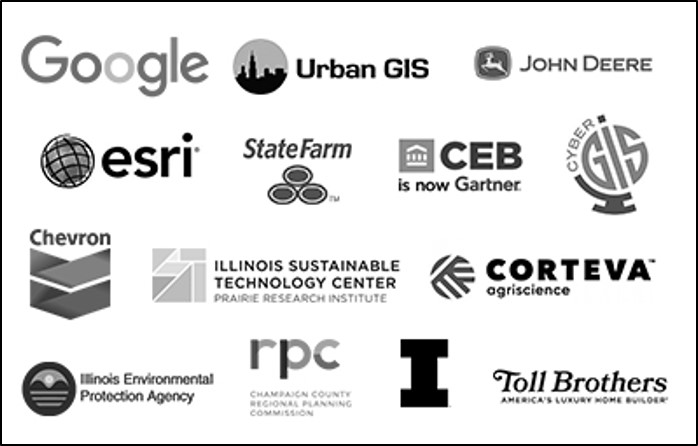 Graduates will be prepared to apply their blended science and business education at companies that utilize GIS to enhance product sales, resource development, business efficiency, and service delivery. Many business functions rely on geospatial technologies, including:
Marketing Analysis
Site Location Analysis
Environmental Risk Assessment
Business Intelligence Operations
Logistics
and more!
Bachelor's degree from a regionally accredited U.S. institution or a comparable degree from a recognized institution abroad
Grade point average of 3.0 or higher (4.0 scale) for the last 60 hours of undergraduate work and for any graduate work
Three (3) letters of recommendation
TOEFL or IELTS scores for non-native English speaking applicants
Personal Statement
Effective for the Fall 2020 admission cycle, our department's Admissions Committee will no longer consider Graduate Records Exam (GRE) scores when evaluating applicants.
Faculty Advisor: Dr. Michael Minn
PSM in GIS Program Administrator: Matt Cohn | (217) 300-3618
PSM Main Office: PSMdegree@illinois.edu | (217) 265-5363