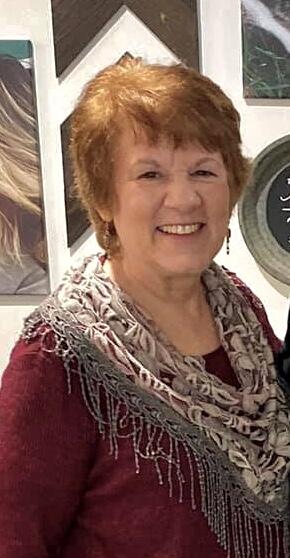 I am so grateful to have received my Geography degree from the University of Illinois! It truly has shaped my life in so many meaningful ways. I thank Dr. Janice Monk (MA, '63, PhD, '72) for creating the undergraduate geography student internship where, during my senior year (1977-78), I gained experience in GIS at the U.S. Army Construction Engineering Research Lab (CERL).
My 37-year Geography career included positions at CERL and the University of Illinois. I worked for five years in CERL's Environmental Division on projects to protect natural resources on Army bases. The highlight of my job as a natural resource specialist was flying in a U.S. Army chinook helicopter over the Mojave Desert. My boss Hal Balbach and I took aerial photos of the Ft. Irwin military base and then wrote narrative to accompany those photos for a manual on Protecting Natural Resources while Training on Army Installations. Another benefit of working at CERL was meeting my husband Bruce. I am now the proud mom of three wonderful children and three special granddaughters.
Next, I was employed at the University of Illinois for 32 years with the Illinois-Indiana Sea Grant College Program, funded by the National Oceanic and Atmospheric Administration (NOAA) in coordination with Illinois and Purdue University. My colleagues and I integrated research, outreach, and education to bring the latest science to Great Lakes communities and their residents. My work in Sea Grant helped connect decision-makers with geography and science, with the ultimate goal of strengthening and preserving ecosystems and communities in southern Lake Michigan and beyond.
I served as Communication Coordinator for 22 years and as Director of Education for 10 years (earned Ed.M. at UIUC in 2003). Being a geographer gave me an invaluable perspective as I conducted environmental education work with teachers, and through collaborations with prominent education venues in Chicago (Shedd Aquarium, Lincoln Park and Brookfield Zoos, Field Museum, Peggy Notebaert Nature Museum, etc). I also developed two costumed characters to enhance geographic learning—Lady Quagga (formerly, Zelda, the Zebra Mussel) and Jumpin' Jack, the Asian carp
My career highlight was being featured in the Smithsonian National Museum of Natural History! Our award-winning aquatic invasive species education website, "Nab the Aquatic Invader!" was showcased on an interactive kiosk in the Sant Ocean Hall. I incorporated much of what I learned from my Zoogeography course with Professor Don Johnson into my work in invasive species education.
I was very gratified to be a member of the National Council for Geographic Education (NCGE) where I gave presentations at many national conferences on our community stewardship programs and environmental education curricula teaching about aquatic invasive species and the safe disposal of prescription meds. Even in my retirement, I continued to attend NCGE conferences and developed a presentation connecting geography with my hobby of collecting hand fans. My talk revealed how fans can be used as geography learning tools through a global view of their materials and uses.
In retirement, I continue to connect with and support Geography as a member of the Teacher Education Steering Committee in our state's Illinois Geographic Alliance (IGA) coordinated by Illinois State University. The Alliance participates in educational reform at the district, state, and national levels. I have presented several times at IGA pre-service and in-service teacher workshops, in addition to providing Sea Grant-developed curriculum materials based on the National Geography Standards, which foster public awareness of the importance of geography in our society. From my college days through my retirement, the theme "Geography is everywhere!" has truly been a major focus and a total joy.