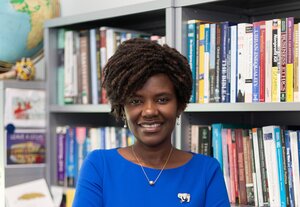 Imelda K. Moise (MS, '07; PhD, '12; MPH, UIS, '15) is associate professor and director of Global Health Studies at the University of Miami, where she also holds secondary appointments in the Departments of Public Health Sciences and International Studies and is affiliated with the Ecosystem Science and Policy Center. She is a Fulbright specialist and serves on various advisory boards including the National Association of County, City and Health Officials Vector Working Group and the Miami-Dade Refugee Task Force. At UMiami, Moise teaches courses on sustainable food, immigrant and refugee health, and health and environmental
applications of GIS.
What first drew you to the field of geography?
I started college as an environmental studies major at the University of Oregon and was interested at that time in understanding why humans destroy natural resources even when they know their livelihoods depend on them. I have always had a passion for understanding how humans, local governments, and industry relate with the natural world, as well as in empowering others to live a healthier life. During my sophomore year, I was searching for classes and saw a geography course on historical and contemporary views of the environment. I loved it and declared geography as a second major. I was also fortunate to have received scholarships that allowed me to work with professors on yearlong research projects and eventually publish my first article. For example, I spent summers on a Native American reservation in eastern Oregon conducting river transects for the tribe as they tried to restore mussels to local streams, and conducted a study with residents along the Umatilla River to understand how they coped with living in a flood-prone area. Up until senior year, I thought I was going to be a fluvial geomorphologist. But this changed when two of my elder brothers died suddenly and unexpectedly just a few months apart from preventable diseases. I knew I  had to start addressing health issues, particularly equal access to healthcare in Sub-Saharan Africa. My undergraduate mentor, Dr. Patricia McDowell, had deep  empathy and let me know that there was a sub-discipline of geography called health geography that I should consider as I applied for graduate school, which would  allow me to build on my current environmental and GIS interests and contribute to global public health. While at UIUC, I worked with amazing advisors Drs.  Kalipeni, McLafferty, and Wang from GGIS, and Kingsley Allan, Diana Grigsby, and Marilyn O'Hara Ruiz across campus. Although two of my Illinois mentors  have sadly passed, Sara, Shaowen and other colleagues continue to be supportive.
What are your current research projects and interests?
My main goal as a  scholar has been to bridge the gap between the production of research findings on health inequity and seeking solutions through problem-grounded research. To  achieve this goal, I have focused my efforts on three interlinked themes: health behavior and health status among disadvantaged populations and communities;  health risks, adaptation, and strengthening public health systems; and urban pests. I collaborate with faculty and non-faculty in the U.S. and in sub-Saharan Africa  and my current projects are funded federally and by foundations including NIH, CDC, RWJF, the Spencer Foundation, the Chase Morgan Foundation, and The  Children's Trust. My ongoing research projects include a study to develop and implement a population-based measure that can be mapped geographically to  study school readiness and community factors that contribute to resilience over time in targeted Miami-Dade County areas; and prospectively and longitudinally  assessing the impact of cumulative greenness exposure on metabolic syndrome among Hispanic/Latinx populations in Miami and San Diego.
What is your favorite memory of living and studying in Champaign/Urbana?
My favorite memories of living and studying in Champaign/ Urbana are many. On campus, I  enjoyed meeting friends and colleagues during Friday student happy hours at Murphy's and attending departmental colloquia and brown bag talks, which helped  with professional development and presentation practice. Around town, I always looked forward to the Urbana Sweetcorn Festival and Jarling's custard each  summer. I am forever grateful, blessed, and a better scholar, teacher, and mother because of UIUC, the department, and your support!