Drs. Nikolai Alvarado, Julie Cidell, and David Wilson presented their research this fall on the U of I campus and across the globe.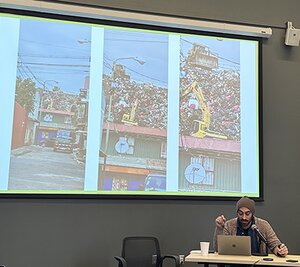 Dr. Nikolai Alvarado participated in the Race, Migration, Memory Conference convened on the University of Illinois Campus November 2-3, 2023. His presentation, titled "Migration, Race, and Space: The Spatio-Corporeal Dimensions of Environmental Oppression in Urban Informal Settlements," drew from his ongoing research with Nicaraguan migrants in Costa Rica. Dr. Alvarado discussed the concept of migrant body-spaces, aiming to elucidate how migrant bodies and the spaces in which they reside are configured as a unified scale of othering, ordering, and bordering. Migrant body-spaces operate through co-constitutive urban and migration regimes and enable forms of oppression which are simultaneously spatial and corporeal.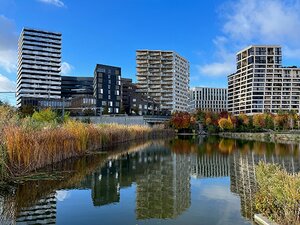 Dr. Julie Cidell is visiting the Institut de Geographie at the Sorbonne in Paris the week of November 13th, where she is giving a talk on "Redeveloping North American railyards and remaking urban space." She will visit the Transport Studies Unit at Oxford (UK) the week of November 20th and present a different talk, "Container choreography and pop-up ports: flows, overflows, and pauses in the US 2021 supply chain crisis."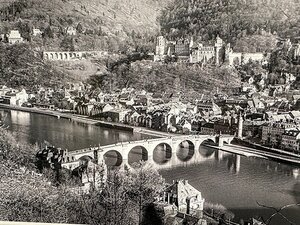 Dr. David Wilson is currently a research fellow for the Fall and Winter of 2023 at the Center for Apocalyptic and Post-Apocalyptic Studies, University of Heidelberg, Germany. To date, his research at the Center has taken him across Europe and he has delivered the following talks:
"Dracula Urbanism and Smart City Mania: the Peculiar Case of Jakarta, Indonesia," invited Lecture, Center for Apocalyptic and Post Apocalyptic Cities Seminar Series, University of Heidelberg, October 2023.
"Dracula in the Crevices and Cracks: Urban Change in the Twenty-First Century," invited Lecture at the colloquium Series, Maynooth University, Dublin Ireland, October 2023.
"Dracula Urbanism and Smart City Mania, invited keynote lecture delivered at the Association of German Geographers Bi-Annual Meeting, Frankfurt, September 2023.
Related topics: