Image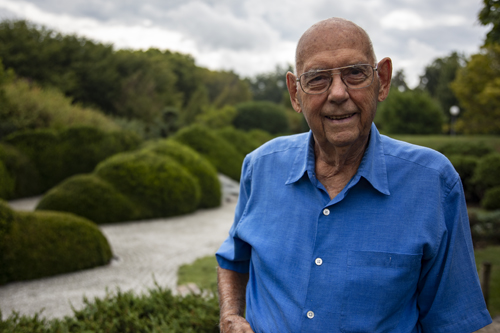 David Evensen, LAS News
All gardens start with a vision, but even a backyard pepper patch requires a certain level of planning and grit that thwarts most from ever becoming more than a morning coffee musing. How powerful does the vision have to be, then, to design and build a full-blown Japanese garden in east-central Illinois?
For James Bier (MS, '57, geography), creator and designer of the gardens at U of I's Japan House, it started with war. As a young man, Bier was drafted to serve in the Korean War and was stationed in Tokyo as part of the U.S. Army's 29th Engineer Mapping Battalion. He fell in love with Japanese art and culture. 
"I lived in Japan for a year compliments of the army," he said. "As a result, I said, 'I've got to have something that reminded me of Japan, and the houses, and the gardens that I saw.'"
That's the kind of powerful draw that Japanese gardens, with their careful designs reflecting certain philosophies and principles, can have on people. Visitors drive for hours to see the Japan House and its gardens. How hard was it to build them? Let's start with this story about finding the perfect rocks, as told by Bier.
Related topics: