Growths in technology enable geographers to better understand some of the most complex landscapes of all: human societies
Dave Evensen, LAS News
Editor's note: This story originally appeared in the Fall 2019 issue of LAS News magazine.
 
Mei-Po Kwan had spent years using research methods that some believed to be incompatible before she stood on a sidewalk in Humboldt Park, Illinois, arming people with daily activity diaries, sound level monitors, and pollutant sensors—tools to map the patterns of their lives and what they were exposed to.
The professor of geography and geographic information science tracked her research subjects' daily movement, emotions, and the measurements collected by the sensors to analyze how they were impacted by social and environmental stressors. Then, she and her colleagues resorted to another, less technological research method: They interviewed them.  
Kwan's research falls into the field of hybrid geography, which goes beyond the understanding of research methods as quantitative or qualitative. To many, geography is a physical science, defined by surveyors poised behind tripods, Rand McNally road maps—or maybe GPS apps on smartphones.
Over just the past few years, however, with the rise of supercomputing, data science, global positioning satellites, and other technology, along with old-fashioned interviews, the work of geographers is revealing mountains of new and distinct insights into not only our environment, but also human behavior. 
In Kwan's case, hybrid geography merges qualitative geography—part of which studies human behavior—and quantitative geography—a numerical, statistics-driven approach—which were traditionally separated in most geography departments. Reviewers and editors at prominent journals were telling Kwan to limit herself to one or the other.
She saw major flaws with that divide, however.
"When attempting to solve major problems like poverty, lacking food, climate change, I don't think just engineering scientists can be sufficient," Kwan said. "You also need social scientists and scholars from other fields who can complement them. They can work together to solve major issues."
She began to conduct several well-received studies using hybrid geography. Among her innovations was the development and use of a new approach, called geo-narratives, to analyze narrative materials like life histories using geographic information systems. Such an approach involved equipping volunteers with journals and GPS devices. She found that people's daily routes reflect their economic and social constraints and point to larger-scale issues in urban development.
Shaowen Wang, head of the Department of Geography & Geographic Information Science and founding director of the CyberGIS Center for Advanced Digital and Spatial Studies and a Romano Professorial Scholar, thinks the field of geography is as old as music, but the vast pools of data available through the modern digital transformation are giving geography a dramatically new tune.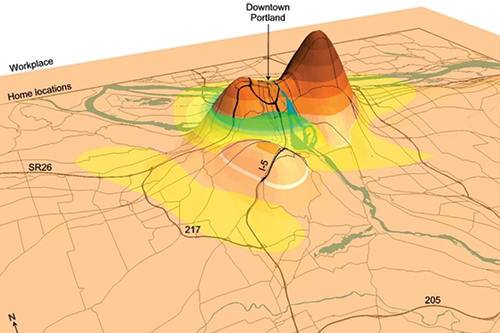 Using activity-diary entries from more than 10,000 people, Mei-Po Kwan created a 3D density surface image of home and employment locations in Portland, Oregon.
At Illinois, the Department of Geography was renamed the Department of Geography & Geographic Information Sciences (GGIS) in 2012 to better represent the field's explosive growth. In the 1980s, GIS software could only run on highly specialized computer workstations. Now, cyberGIS—a rapidly growing field pioneered by Wang and his collaborators—is pushing GIS into pervasive cyber environments and harnessing big data and high-performance computing to broaden discovery and innovation across many domains.
Wang has a world map in his office covered with colorful pins, representing the places he's traveled. While he continues to travel, with the sheer quantity and variety of geospatial data available to analyze, Wang said he rarely works in the field anymore. Today, Wang traffics in terabytes and petabytes. 
For example, he's used big data and created advanced cyberinfrastructure to analyze how social media Tweets can predict the spread of the flu, and create computer simulation models for mass emergency evacuations.
"I still feel like we're scratching the surface," Wang said. "I'm feeling excited, but I'm also feeling like I wish I could be cloned so I could do more. So much is happening."
Bruce Rhoads, professor of GGIS, is still amazed by how technological capabilities have improved in his field. As the capabilities have improved, the scope of his research has expanded into the social sciences. 
Rhoads specializes in the dynamics of rivers and the movement of sediment across landscapes. He and his colleague, Jim Best, professor of geology and GGIS, use a multi-beam sonar device to map the bottom of rivers when water reaches the top of the banks and the flow rearranges the river bed. 
The device allows Rhoads and Best to "see through" the water to understand processes normally obscured by deep flow.  By rapidly producing rainbow-colored 3D images of the changing bottom, the device shows how the river moves sediment and shapes its channel.
Rhoads and other scientists, including colleague David Wilson, professor of GGIS, have combined research methods to address an issue urban and suburban neighborhoods care about: beautiful, healthy, and stable rivers.
"A key area of research in river science is to examine the ways in which people manage rivers and the extent to which scientific information on the ecology, hydrology, and geomorphology of rivers plays a role in that management," Rhoads said. "This type of research lies at the interface between the natural and social sciences."
He added: "Trying to bring together very different ways of thinking and very different ways of doing analysis is still something we're trying to accomplish within geography," Rhoads said. "It's not an easy problem."
Murugesu Sivapalan, professor of GGIS and civil and environmental engineering, founded the field of socio-hydrology, a field that uses a combination of natural and social sciences to address the myriad problems related to water. Sivapalan has won awards for innovating new ways for policy makers to consider the interactions between water and people.
"The field is quite exciting because we clearly saw the need," Sivapalan said. "There are problems that are being solved wrongly because of the lack of involvement of social and human aspects."
In Sivapalan's childhood home in the Jaffna peninsula in northern Sri Lanka, for example, the government decided to jumpstart the country's economy by expanding agriculture. The subsequent uptick in water usage drew too much water from the already-dry region, causing saltwater from the Indian Ocean to leak into the ground. Pesticides and fertilizer sprayed onto the massive rice, tea, and coconut plantations also permeated into the ground, igniting concerns about the safety of the drinking water.
Sivapalan criticized short-term solutions, such as piping water in from other areas, as temporary bandages.
"They are very narrow engineering solutions, and they're not addressing the core issues which I warned about," Sivapalan said. "Ten years later something else will be coming because they're not looking at the root causes of the problems. A sustainable solution requires long-term, visionary thinking."
Sivapalan is confident that solutions coming from the field of socio-hydrology will have staying power. After only seven years, the field has graduated 30 doctoral students and produced more than 160 research papers.
"It's especially exciting to see young people coming in. Socio-hydrology is going to stay for a long time," Sivapalan said. "There's a real need for trained people to push the field forward and really help solve problems."