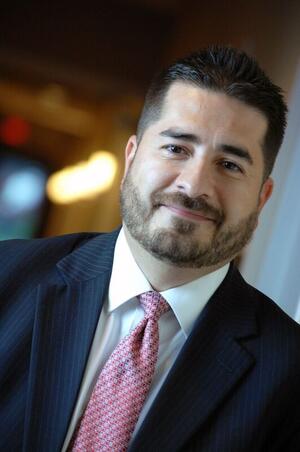 Illinois native Ivan Gamboa (BA, 2002) has a passion for strengthening neighborhoods. He is Senior Vice President of Tri City National Bank in Oak Creek, Wisconsin, where he focuses on business and community development. Ivan has taken on multiple roles over his 13 years with the bank and has always appreciated how his work and civic duty are intertwined.

Ivan also serves as Board President for Harbor District Inc., which is leading revitalization efforts in Milwaukee's inner harbor. In May 2016, Governor Scott Walker appointed Ivan as Chairman of the Board of Directors for the Wisconsin Housing and Economic Development Authority (WHEDA), whose mission is to stimulate the state's economy and improve its residents' quality of life by providing affordable housing and business financing products. He was reappointed by newly-elected Governor Tony Evers in March 2019.
What attracted you to the field of geography and what is your favorite geographic concept?
I have been attracted to neighborhoods my entire life. I remember as a child my parents driving us into the south side of Chicago every Sunday to visit my grandparents. I would just stare out the car window watching the neighborhoods change. Back then, I was enamored with the physical place of neighborhoods but as I got older I realized the human aspect was more beautiful. I transferred into geography in the middle of my college life and just tried to absorb everything. I was especially drawn to GIS and started to understand how we can learn more about cities by layering data over the neighborhoods we are studying.
What role does geography play in your current work?
Geography is vital to everything I do, and my foundation for understanding what makes neighborhoods tick was laid during my time in the department. As a commercial real estate lender for a community bank, I have helped finance the wave of redevelopment that has arrived in Milwaukee. A lot of times we are redeveloping older buildings that were past their useful life, which I believe preserves and strengthens a neighborhood's character.
Geography also plays a big role in my board work, especially as Chair of WHEDA. Geography is key as we set policy for the Low-Income Housing Tax Credit and New Market Tax Credit programs. Tri City National Bank is also one of the state's largest multi-family and first-time home buyer lenders. Looking ahead, we are faced with the changing dynamics of rural Wisconsin and the challenge of bringing in new investment. Downtown Milwaukee has seen the city's most significant change over the past decade with new office towers, hotels, a sports arena, and multi-family developments. That development has not yet spilled over into the surrounding neighborhoods, so we must understand which public investments can be made in neighborhoods than can attract more private investment.
What is your fondest memory of your time in the department and on the Illinois campus?
I have many fond memories of my time at Illinois and just as many good friends. I grew up so much between my freshman and senior year, which I financed as a pizza delivery driver for Bonnie Jean's Pizza above the Illini Inn. My roommates loved me! I didn't know anything about the geography department until stumbling upon "Earth's Physical Systems," an intro level class taught by Prof. Rhoads that that included a field trip to a nearby stream. I quickly realized that I wanted to switch my studies and dive deep into every aspect. It has been a blessing.