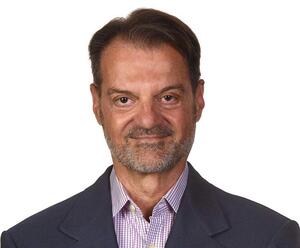 Wayne Koonce never stepped on an airplane until his junior year at the University of Illinois. That's when the College of LAS set him up with a year of study in Vienna, Austria—a trip that changed his life.
Since that pivotal trip, Koonce has not stopped globetrotting. In fact, since then, he has flown overseas every single year but two. Today, his work has him constantly on the move, setting up large-scale real estate deals in gateway cities such as New York, Paris, and London, and exotic locations, including Hawaii, southern France, and Brazil.
Koonce, an investment banker, has been involved in over $8 billion worth of real estate deals, and he credits the U of I for launching him on a path that has taken him from a family farm in Illiopolis, Illinois, to cities all around the world.
Because of the impact of Illinois in his life, he has remained closely connected to the U of I by hosting a Campaign Illinois event, becoming a member of the President's Council, and doing behind-the scenes work to help set up a graduate fellowship fund in honor of a former professor. Koonce and his wife, Harriet Hentges, even established a bequest gift, the Wayne Koonce Endowment for Liberal Arts and Sciences.
Koonce has also won the 2017 College of LAS Dean's Quadrangle Award, given to alumni who maintain significant connections with Illinois. "I'm your classic U of I student, and this is the kind of thing that a great state school does," said Koonce. "Illinois opens up new worlds to people like myself whose experiences may have been rather limited. "In many ways, growing up on the farm in central Illinois was magical," he adds, but his greatest passion has always been for the ecology of cities. So when he came to U of I in the late 1960s, he majored in geography with an emphasis on urban planning.
Read Wayne Koonce's full profile via College of LAS News